Internships
Northwestern Mutual - A Top 10 Internship Program
The ambition of Northwestern Mutual's internship program has been less about selling our financial products and more about developing students to be leaders in the industry. As a College Financial Representative, you will enjoy the benefit of working with Northwestern Mutual –Greater Orlando where you will receive outstanding guidance, superior support and quality expertise.
As full-time college students, College Financial Representatives generally work 15 to 20 hours per week developing business and client-building skills. In most ways, they follow the same process for establishing their careers as our financial representatives.
Our program offers you invaluable business experience that you will take with you far into your career. But that's just the start of the impact this can have on your future and your present. Consider these benefits:
Practical guidance in your career selection process
The chance to develop your networking and business relationship skills
Flexible work schedule
State licenses for life, health and accident insurance
Securities license opportunities and a head start program for a career as a full-time Financial Representative
Performance-based compensation
Actual business experience for your resume
Test drive the Financial Representative career
Regardless of what you do after graduation, you'll have a foundation of skills and knowledge to build your career upon. One out of three former interns becomes a full-time Financial Representative upon graduation. These graduates have built a solid foundation for immediate and future career success.
The two-thirds who choose other career paths benefit as well. They launch their career with stronger business-building skills and a clearer sense of where they want their career to take them.  Our office recruits from many career centers at the following colleges and universities across Orlando and Central Florida:
A Day In The Life: Northwestern Mutual Intern
An internship with Northwestern Mutual offers a challenging, real-world opportunity to experience a career in financial services. You will be supported and mentored. Ideal candidates need a strong work ethic, the ability to balance school and work, and a drive to succeed.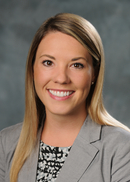 Chloe Meredith Verseput
Campus Recruiter
chloe.verseput@nm.com
Office 407-440-6016